Hearts of Palm Pasta Veggie Medley
Photo and content credit to Susan Fleischer in one of my FB groups. Thanks Susan!
Do you eat to lose or maintain your weight or do you eat to regain or maintain your health? It doesn't have to be one or the other. It's also important to note that eating for a healthy gut also means you're eating for a healthy waistline and a healthy brain! This meal will satisfy you and leave you feeling light as well. It's easy to digest, too.
Using a large pan on medium heat, I first added evoo and then a large chopped purple onion, chopped leeks, a grated large clove of garlic, and 3 stalks of celery, diced. When these were softened and starting to brown, I added in a jar of well-rinsed, quartered artichoke hearts and a package of Trader Joe's well-rinsed hearts of palm pasta. To this I sprinkled on Seitenbacher broth and seasoning mix but you could just use salt. I also added pepper and some manzanilla and kalamata olives I cut in halves or thirds. It's okay to add some of the salty brine as well. Some capers finished it off.
I happened to have some leftover wild caught salmon and mixed it with some Kite Hill chive cream cheese and ate this with my Hearts of Palm/Veggie Medley. You could leave the salmon out for a totally vegan meal. For those not vegan, clams, shrimp, crab or seafood are all great additions to this dish.
Btw, artichokes are very good for your liver health and you need a healthy liver to burn extra fat. So remember to add these to your meals often.
I will be trying this as I love artichokes and I'm always looking for more healthy recipes. I'll go meatless and add in some cilantro for more detoxing power.
Can't wait to try this. Thanks again Susan!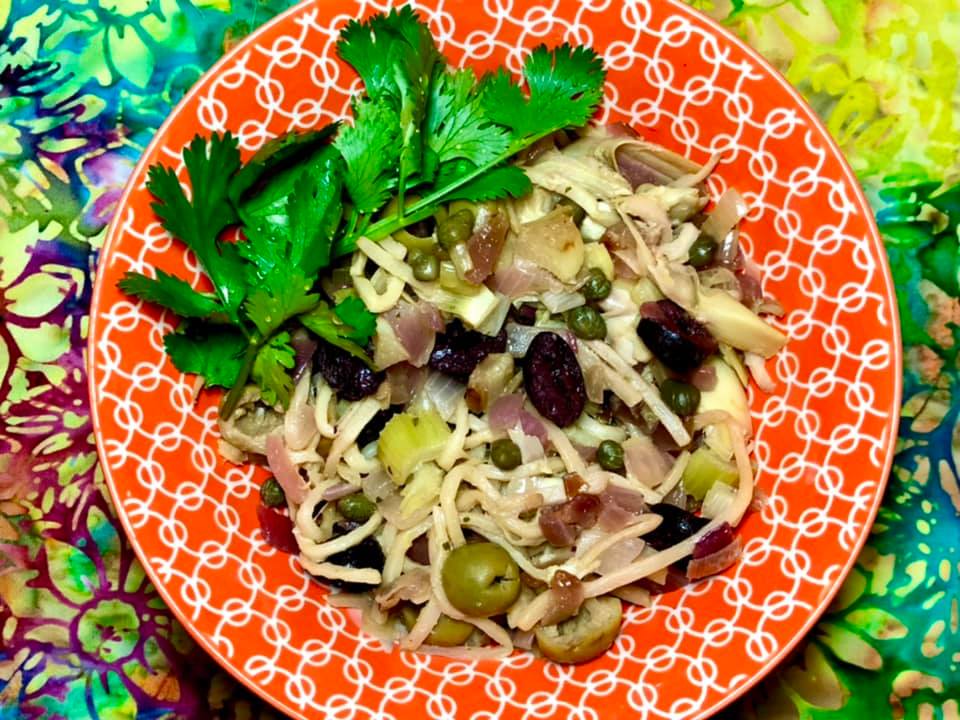 Sent from my phone with Blog This WOW