Dr. Gundry's Shrimp Pad Thai
Dr. Gundry is a doctor I follow that focuses on health. Here is one of his recipes that I'll be trying. I even have the can of hearts of palm so I'll be trying the veggie option.
Ingredients (Serves 2):
2 tablespoons olive oil
1 tablespoon sesame oil
2 garlic cloves
6 ounces wild shrimp, shells off (or hearts of palm)*
1⁄2 cup broccoli slaw (optional)
1 pastured egg (optional)
1⁄2 cup basil leaves, chopped
One 8-ounce package fettuccine-style Miracle Noodles
Juice of 2 limes
4 tablespoons chopped dry roasted macadamia nuts
1 to 2 tablespoons fish sauce (or coconut aminos)*
1 tablespoon unsweetened, unseasoned rice vinegar
Pinch of stevia
1 teaspoon paprika
*If you're vegetarian, vegan, or don't eat shellfish, simply swap the shrimp for hearts of palm (cut into smaller pieces). Also, feel free to use coconut aminos rather than fish sauce.
To prep the noodles:
1. First, bring a pot of salted water to a boil.
2. Next, remove your noodles from the package and rinse under cold running water for 2 to 3 minutes.
3. Then transfer noodles to boiling water and cook for 2 to 3 minutes.
4. Finally, transfer your noodles to a dry pan and cook over medium-low heat, stirring to dry out the noodles.
Cooking instructions:
1. First, heat the oils in a large skillet over high heat, but do not bring them to smoke.
2. Add your garlic and stir briefly. Then add the shrimp and broccoli slaw (if using) and stir for an additional minute.
3. Next, add your egg (if using) to the skillet and stir for a minute, until cooked.
4. Then add the basil, noodles, lime juice, macadamia nuts,fish sauce or coconut aminos, rice vinegar, stevia, and paprika, and stir-fry everything for a few more minutes.
5. Serve and enjoy!
This pad thai recipe has a delicious blend of proteins,greens, and healthy fats to keep you feeling full — while also helping you stay on top of your health goals.
Plus, it makes for great leftovers in your fridge, too! (You can eat this over a salad with avocado the next day.)
Enjoy!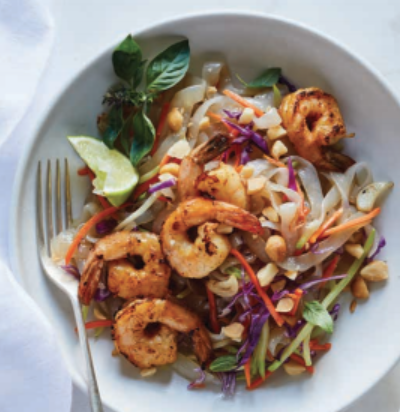 Sent from my phone with Blog This WOW