This includes the patties in the stores they are now trying to push on media making them sound like something good. READ ingredients. I'm all for going plant based as much as possible but do it with whole foods. Use something like lentils instead. I've had very yummy lentil burgers.
Above all it's important to read labels and certainly avoid soy, which is one of worst GMO along with corn.
Here is a list of ingredients in these:
Water, Soy Protein Concentrate, Coconut Oil, Sunflower Oil, Natural Flavors, 2% Or Less Of: Potato Protein, Methylcellulose, Yeast Extract, Cultured Dextrose, Food Starch Modified, Soy Leghemoglobin, Salt, Mixed Tocopherols (Antioxidant), Soy Protein Isolate, Vitamins and Minerals (Zinc Gluconate, Thiamine Hydrochloride (Vitamin B1), Niacin, Pyridoxine Hydrochloride (Vitamin B6), Riboflavin (Vitamin B2), Vitamin B12).
These are NOT good for you!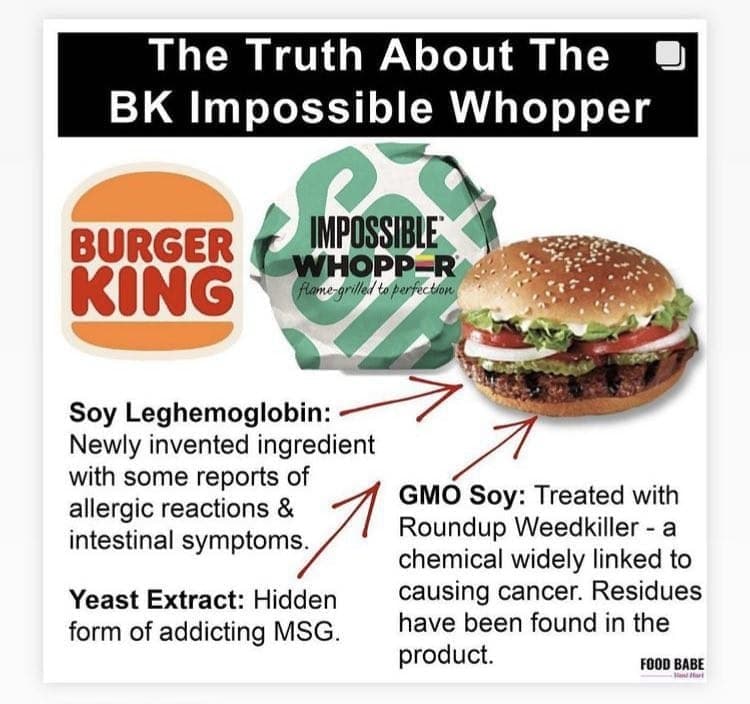 Sent from my phone with Blog This WOW