Mint Chocolate Chip Ice Cream
"Dr. G's Homemade Mint Chocolate Ice Cream"
Ingredients (serves 6):
15 oz can coconut milk or unsweetened coconut cream
3/4 cup of 1-for-1 monkfruit sweetener (or 1⁄3 cup of Swerve)
1 tsp instant coffee powder or finely ground espresso beans
2 Tbsp unsweetened natural cocoa powder
One bar of dark chocolate (at least 72% cocoa) (chopped)
1 tsp pure vanilla extract
2 Hass avocados (peeled with the pits removed)
3 Tbsp chopped fresh mint (or 10 drops of mint stevia)
1⁄2 cup of dark chocolate chips (at least 72% cocoa)
How to make it:
Put your coconut milk, sweetener, coffee power, and cocoa powder in a saucepan. Then whisk them over medium heat, until the sweetener dissolves and the mix is blended.
Next, turn off the heat and add in your chopped dark chocolate. Stir until melted.
Place your mixture into a food processor fitted with an S-blade. Then add the vanilla extract, avocados, and mint, and blend until smooth.
Pour the mixture into a bowl, cover it up, and refrigerate for 2 hours until cool.
Next, stir in the chocolate chips. Then spoon the mixture into an ice cream maker and churn everything until it's the consistency of soft ice cream.*
Then serve immediately. (You can also freeze it to a firmer consistency and serve later. For this, just transfer the mixture to a glass container and cover it using wax paper secured with a rubber band.)
*If you don't have an ice cream maker, no worries. Simply put the mixture in a pan and place it in the freezer. Then stir it every 30 minutes to break up ice crystals, until you reach your preferred consistency. It'll still taste just as delicious.
This is Dr. Gundry's recipe so it's lectin free if you follow that way of eating.
Don't let the avocado scare you, it's purpose is to make the ice cream creamier.
Let me know if you've tried this guilt free treat!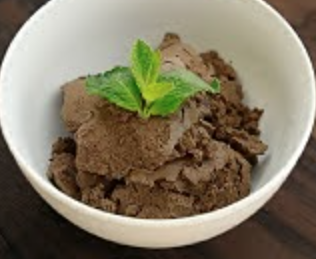 Sent from my phone with Blog This WOW