Dr G's Guilt-Free Chocolate Cheesecake
Ingredients for the crust:
1 and 3⁄4 cups blanched almond flour
4 tablespoons cocoa powder
3 tablespoons monk fruit sweetener
1∕3 cup coconut oil or grass-fed butter
1 teaspoon vanilla extract
Ingredients for the filling:
1 and 2∕3 cups raw macadamia nuts, soaked in water overnight (or longer)
3⁄4 cup canned unsweetened coconut cream
1⁄2 cup powdered Swerve or Allulose
1⁄2 cup melted bittersweet chocolate (at least 72% cacao)
1⁄2 cup melted coconut oil or grass-fed butter
1⁄2 teaspoon vanilla extract
1 tablespoon almond extract
Directions:
1. Preheat the oven to 375ºF. Line an 8-inch springform pan with parchment and set it aside.
2. To make the crust, add your flour, cocoa powder, sweetener, coconut oil, and extract into a food processor fitted with an s-blade. Then pulse until the ingredients come together into a smooth dough.
3. Next, press the dough into the base of your pan and bake it for 10-15 minutes, until the crust sets and is firm to the touch. Afterwards, let it cool down to room temperature.
4. While your crust cools, it's time to make the filling. To start with, add your nuts and coconut cream into a food processor and pulse until a smooth paste forms. Then add your Swerve and continue to pulse until creamy.
5. Next, add your chocolate, coconut oil, and extracts. Pulse until smooth. (If the mixture becomes too thick, you can add a few tablespoons of coconut milk to thin it out.)
6. Then transfer your filling on top of the prepared crust.
7. Place your cake in the refrigerator and let it chill for at least 4 hours until it sets.
(Side note: I find this cake freezes really well, too. So it also makes GREAT leftovers for later.)
You can combine this with some berries on top also for a summertime treat.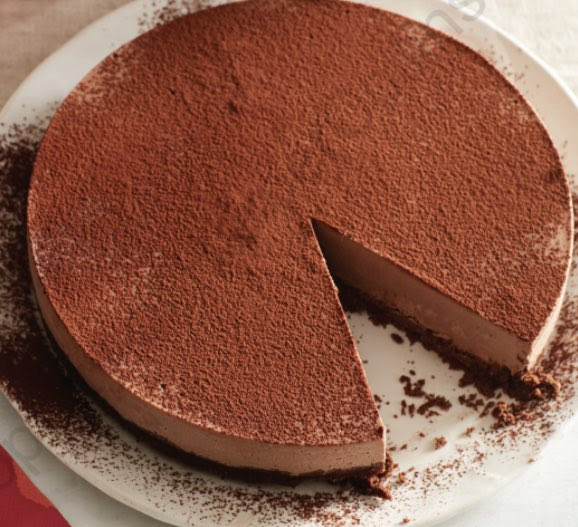 Sent from my phone with Blog This WOW